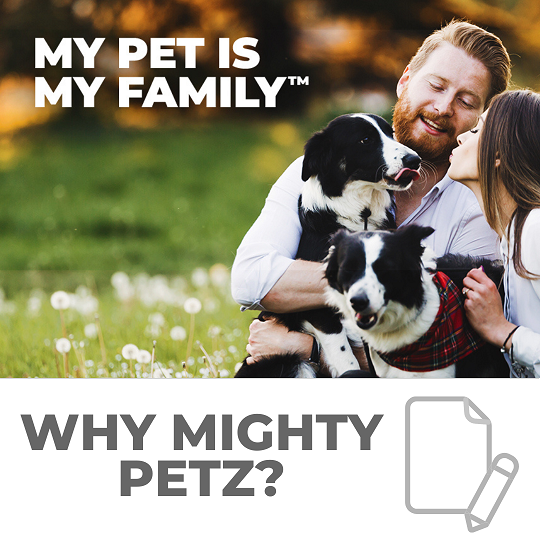 Why Mighty Petz?
There are lots of pet supplements out there. Here's what makes Mighty Petz the leaders of the pack:
PASSION OVER PROFIT
For us, it's not about money; it's about Molly and Max and Midnight. We'll show ourselves to the doggie door before we ever throw you a bone. We promise to be honest, ethical, and only offer products we give our own pets.
TOP QUALITY ONLY
We carefully handpick the most reputable U.S.-based manufacturing partners and the best ingredients. No exceptions. We make sure the highest manufacturing standards are followed when making products for your furry friends. All our products are vet-formulated.
A "PAWERFUL" PUNCH
We pack each supplement with as many beneficial active ingredients as we can without losing sight of price. Great strides are taken to keep costs within reach.  
TASTE MATTERS
 Pets have unique temperaments and taste buds. We design with the goal of universal deliciousness, and offer a 
100% Taste Guarantee
 

in case Fluffy or Fido turns up their nose (spoiler: they probably won't!
)
. See our refund page for more details. 
EXCEPTIONAL CUSTOMER SERVICE
Not sure which supplement to get? Want to brag about your pet? Give us a call, send us an email, or contact us on Facebook. Our team members are happy to help you find the perfect fit for your furry best friend…or just listen as you tell us how awesome they are. 
SEE OUR BEST SELLERS: