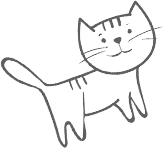 Mighty Petz Brand Story
I've found that a lot of our customers are just like us.
Maybe you grew up around pets. I used to live in the countryside with a lot of animals around. My mom was always rescuing animals and taking care of homeless ones and I was always there helping out.
Maybe you always wanted a cat or dog of their own, but your parents said no. Similarly, some of our team members couldn't wait to move out on their own, so they could finally get the cat or dog they'd "waited a lifetime for."
We, like our customers, know that the joy of having a pet, and the unconditional love that comes with being a pet parent has no true equal.
However, being a pet parent is not without its challenges. We all want our pets to live long, healthy and happy lives, but knowing exactly how to do that can seem impossible...and to a certain extent it is.
No matter how much we love our pets, we'll always speak a different language than they do. That means they can't always tell us what's wrong and they can't really tell us when they're feeling better...though, you can sense it when they're back to normal.
Before starting Mighty Petz, I found myself doing hours of research trying to make sure I was doing everything to keep my pets healthy, prevent problems, and extend my time with them.
While all of that research didn't uncover the one special secret that will keep pets healthy, I did find something almost as good that led me to start this business.
For the better part of a decade I'd been working in the high-pressure world of finance and I was ready for a change. I wanted to actually make a difference in people's lives, something that would make it easy to show up to work, and easy to sleep at night. Fortunately, my husband shares my love for pets, as they have been close to both of our hearts since we were kids. He joined me for brainstorming and helped me look into options to do something for pets and their parents.
At one point, I toyed with the idea of becoming a vet but the idea of poking and prodding pets instead of cuddling them didn't feel like a good fit. I started looking into various pet supplies for the most precious member of our family - our cat Kiwi and noticed that many of the pet supplement companies sold very similar products. So, I spoke with several veterinarians, including one that we work with to this day, and it turns out that many of the products being sold today as health supplements, are often more fillers than active ingredients.
Everyone can say words like quality and talk about how much they love pets, and in truth, most will.
We hope that you will try one of our various products. We put all of our love and care into it.
We believe that EVERY PET is family and deserves to live a LONG, HEALTHY, and HAPPY life. That's why we promise to be honest, to be fair, and to never sell anything that isn't the best product possible.
Warmest Regards,
Anna & Kiwi