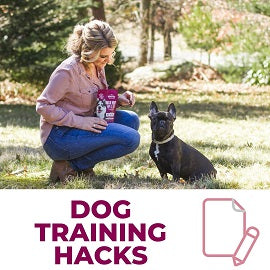 Dog Training Hacks You'll Wish You Knew About Sooner
While you may love your dog to bits, it can be frustrating if they're a bit of a handful. Whether they never obey your instructions, or leave some not-so-nice "surprises" around for you to discover, an untrained dog can make even the most patient of dog owners frustrated. That's why training your dog is essential.
As you may have heard or experienced yourself, dog training takes dedication and knowledge. That doesn't mean it's impossible, however! You just need to know the right hacks to put you on the path to success. Below you'll find the very best dog training hacks you can put into action today
1. Positive Reinforcement is Key
We're all guilty of getting mad at our dogs for doing the wrong thing from time to time. After all, it makes sense that if we get angry after they do something undesirable, they'll make the connection we don't like what they're doing, right? If it seems like they're not getting the message even after a harsh talking to, there's a good reason why: doing so doesn't incentivise good behavior.
What does incentive good behavior is positive reinforcement. As this guide to positive reinforcement training for dogs explains, these techniques "use non confrontational methods to work a dog's brain – rewarding positive behavior, establishing rituals and training actions that are incompatible with negative behavior, and lessening a dog's anger and frustration – all while enabling the dog to feel good inside."
Positive reinforcement is generally considered to be a far more effective and ethical means of training your dog compared to punishment techniques likes shouting, taking away your their possessions, or ignoring them. So be sure to get into the habit of making this all-important switch when you begin training your dog.
2. Find Out What Your Dog Loves
As we shared above, positive reinforcement is a hack that will make all the difference to your training efforts. In order for it to work, however, you'll need to pinpoint what incentives for your dog actually work. For example, there's no point rewarding your dog with a certain snack if they don't even like the taste of it.
You'll need to do some trial and error to work out the most effective rewards for your dog. Maybe they're motivated by some dog food or would prefer a big hug from their favorite human every time they behave well. Perhaps a combination of a couple of rewards works best. Don't be afraid to experiment until you find precisely what works best!  
3. Use Puppy Training Pads
When it comes to toilet training your dog, there are tons of tips to make use of. Toilet training is no doubt one of the most challenging parts of dog training, so you'll want to make use of any expert tips you come across. One hack we can't recommend enough is to make use of well-made puppy training pads. As dog expert Lauren Corona points out, training pads will help prevent unpleasant stains and odors getting stuck deep in your carpet.
When it comes to choosing which training pads to buy, be sure to note the absorbency of the pads. Needless to say, the more absorbent the better! Other features Corona highlights that you should keep in mind include a quick drying top layer, odor control, the inclusion of attractants, leak-proofing qualities, adhesiveness, durability, and eco-friendly credentials.
4. Don't Give Up!
One of the biggest hacks we can share with you is to not give up on dog training, even when it feels like you're not making progress. While you may know of dogs who breezed through their dog training, it's important to remember that every dog is different. Some dogs take more time to become accustomed to this new way of life, so it's only natural that some may take longer than others to be fully trained.
Unless you want to keep putting up with all the mischief your dog gets up to, you'll need to  stick with your training plan until the very end. Remember: the payoff will be huge, so keep your eye on the prize!
 ------------------------------------------------------------------------------------------------------
About the Author
Melanie Greene is a writer for Pet Life Today. She has more than 8 years of experience as an educator for AZA accredited facilities, including Tampa's Lowry Park Zoo and the Florida Aquarium. She's passionate about pet safety, holistic pet health, and trying out new products. She has been writing professionally since 2009. She has a Master of Fine Arts in Creative Writing from National University and a Bachelor of Arts in Writing from the University of Tampa. She lives in Tampa, Florida with her three dogs, husband, and son.
[Photo by Jamie Street]