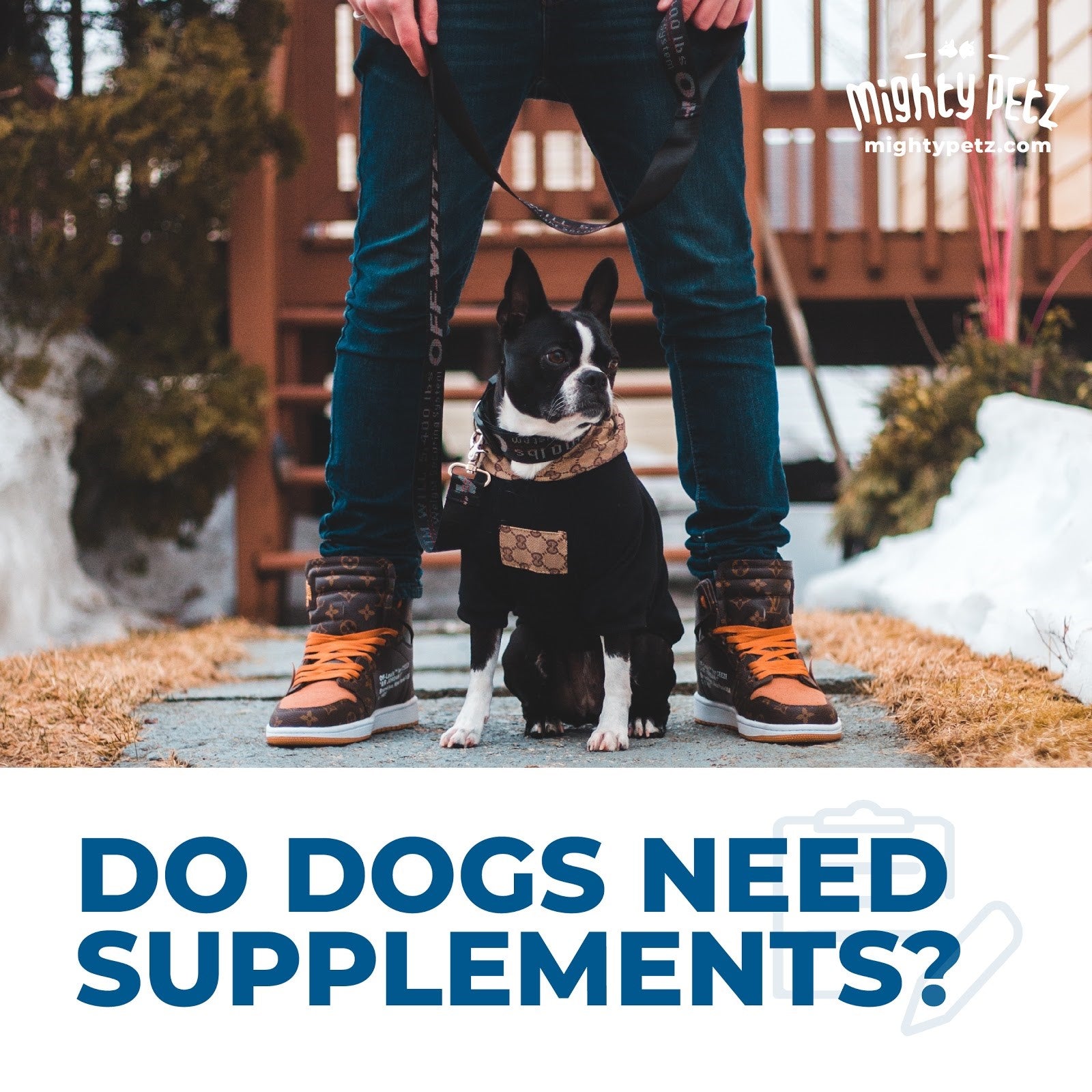 DO DOGS REALLY NEED SUPPLEMENTS?

Just like humans, dogs need vitamins and nutrients to survive. A big portion of their daily needs usually comes from their diets. So, for an adult pooch, a fully balanced regimen can meet their vitamin/nutrient quota. However, not all dogs can naturally get them solely through food consumption. Some nutrients happen to exist in small quantities in nature which makes it harder for the body to synthesize the active ingredients and this is when supplements are needed to make up for that deficiency.
5 EXAMPLES WHEN TO START USING PET SUPPLEMENTS 
In this article we're going to share 5 instances in which supplements are necessary for your furry friend's well-being.
1. MOBILITY SUPPORT
If your fur baby deals with mobility issues caused by old age or a medical condition, your vet may advise you to put them on glucosamine and Chondroitin rich supplement. These two elements help protect the joints and work to support lubrication within the joint as well as help maintain cartilage. Both are not included in most commercial foods.
2. HELP MAINTAIN SKIN & COAT HEALTH
Maintaining a healthy luscious fur can be a hard task, but it's even harder when your dog is suffering from a skin condition that affects this part of his body. Fortunately, a lot of different studies show that Omega 3 Fatty Acids along with a good probiotic can help skin irritation and promote healthy and shiny fur!
3. HELP PROMOTE DIGESTION 
While an upset stomach can be a reason for concern, in most cases, your vet will assure you it's probably nothing to worry about. But, as pet parents we always want our fur babies to have the best care. Supporting their digestive system with a good probiotic is a great idea to keep their gut bacteria balanced and their digestive tract healthy.
4. IMMUNE CARE
One of the most important systems of any being is the immune system, it is the shield that keeps all harmful organisms at bay and protects the body from bacteria, viruses, and more. Choosing a good immune support supplement can help your pup maintain a strong physique and fight infections,or occasional allergy issues.
5. BEHAVIORAL SUPPORT
Whether it be stress, separation anxiety, chewing, or even a thunderstorm. A calming supplement can help your dog feel comfortable and lower his stress levels.
In fact, using a natural supplement with ingredients like hemp seed oil or melatonin may be the safest choice.
Although it's true, a balanced diet can help your dog get the best of nutrients, there is no guarantee they're not missing some. That is why supplementing with the right products, ones that are Vet and FDA approved will certainly help fill any gaps.
-------------------------------------------------------------------------------------------------------
Source: 
https://www.petmd.com/dog/centers/nutrition/evr_dg_dog-dogs-really-need-nutritional-supplements